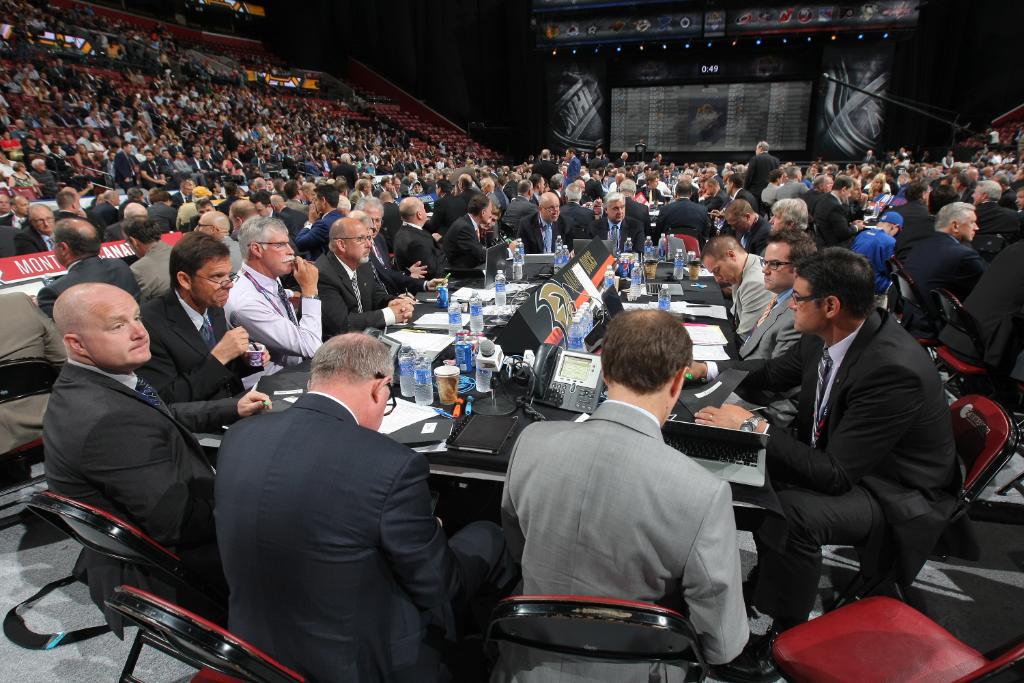 Since the 1975 NHL Amateur Draft, which saw Merritt Centennials forward Greg Agar make BC Hockey League history as the first ever player selected directly from the league, 168 BCHL players have heard their names called on draft day.
The banner day for the BC Hockey League was the 2004 NHL Entry Draft, where a dozen players were selected directly from the league, a representation of four percent of all players chosen in the draft that year.
The BCHL also celebrated a historic day in 2007, when Burnaby Express forward Kyle Turris was selected in the first round, 3rd overall by the Phoenix Coyotes. It's the highest position a player has ever been drafted directly from a BCHL team.
All 17 active BCHL teams have had at least one player drafted directly from their club. The Cranbrook Bucks obviously haven't had any players drafted yet as they haven't played their first season in the league.
The Edmonton Oilers lead the way in selecting 15 players directly from the BC Hockey League during their history, with the Vancouver Canucks second at 14 players, followed by the New Jersey Devils at 13 players. The Buffalo Sabres are the lone current NHL team which has never drafted a player directly from the BCHL.
BCHL franchises ranked by selections in the NHL Entry Draft
Penticton Vees – 33
Vernon Vipers – 22
Chilliwack Chiefs – 18
Victoria Grizzlies – 11
Salmon Arm Silverbacks – 9
Powell River Kings – 8
Surrey Eagles – 8
Coquitlam Express – 7
Nanaimo Clippers – 7
Merritt Centennials – 6
Summerland Buckaroos – 6
West Kelowna Warriors – 6
Cowichan Valley Capitals – 5
Trail Smoke Eaters – 5
Langley Rivermen – 4
Prince George Spruce Kings – 4
Kelowna Spartans – 3
Abbotsford Flyers – 2
Alberni Valley Bulldogs – 2
Wenatchee Wild – 2
Burnaby Blue Hawks – 1
Quesnel Millionaires – 1
NHL franchises ranked by number of BCHL players selected in the NHL Draft
Edmonton Oilers – 15
Vancouver Canucks – 14
New Jersey Devils – 13
Carolina Hurricanes – 9
Nashville Predators – 8
Chicago Blackhawks – 7
Colorado Avalanche – 7
Detroit Red Wings – 7
Winnipeg Jets – 7
Arizona Coyotes – 6
Boston Bruins – 6
Montreal Canadiens – 6
St. Louis Blues – 6
Calgary Flames – 5
Pittsburgh Penguins – 5
Dallas Stars – 4
Florida Panthers – 4
Los Angeles Kings – 4
Ottawa Senators – 4
San Jose Sharks – 4
Washington Capitals – 4
Anaheim Ducks – 3
New York Islanders – 3
New York Rangers – 3
Philadelphia Flyers – 3
Toronto Maple Leafs – 3
Columbus Blue Jackets – 2
Tampa Bay Lightning – 2
Vegas Golden Knights – 2
California Seals – 1
Minnesota Wild – 1